It's "Wait and See" as Bank of Canada Maintains its Policy Rate at 5%
The Bank of Canada announced today that it will hold the overnight rate at 5% despite an inflation rate increase to 3.3% in July 2023 which is trending further away from its target inflation rate of 2%. The central bank is adopting a "wait and see" stance as there was a sharp drop in domestic GDP growth reported for the first half of 2023 and increased unemployment to 5.5% in July compared to 4.9% a year ago.
Bank of Canada interest rate hikes are designed to curb demand in the economy by making it more expensive for consumers and businesses to borrow and by squeezing household budgets due to higher debt costs and rents. By spending less, a dramatic slowdown in the economy occurs, businesses contract and start laying off workers and prices are forced to drop, thereby lowering inflation – at least in theory.
Although there are indications that demand in the economy is slowing, the Bank of Canada has stated: "Governing Council remains concerned about the persistence of underlying inflationary pressures, and is prepared to increase the policy interest rate further if needed."
Regarding Canada's overall housing market, Shaun Cathcart, CREA's Senior Economist commented recently: "Sales and price growth are already showing signs of tapering off further in August in response to the Bank of Canada's mid-July rate hike and messaging regarding above-target inflation for longer than previously expected. We're looking at another round of "back to the sidelines" for home buyers until there's a higher level of certainty around interest rates going forward." It should be noted that 20% of Canadian mortgages are due for renewal in 2024.
Looking ahead in 12 months time: The Bank of Canada would be poised to reduce overnight interest rates to spur the general economy back to health, provided inflation is close to its target range of 2% which is expected now in late 2024. This will have a dramatic effect on real estate market activity due to pent-up buyer demand, falling interest rates, which would improve affordability, massive immigration into Canada increasing demand for housing and a severe undersupply of housing stock.
The next Bank of Canada announcement is October 25, 2023.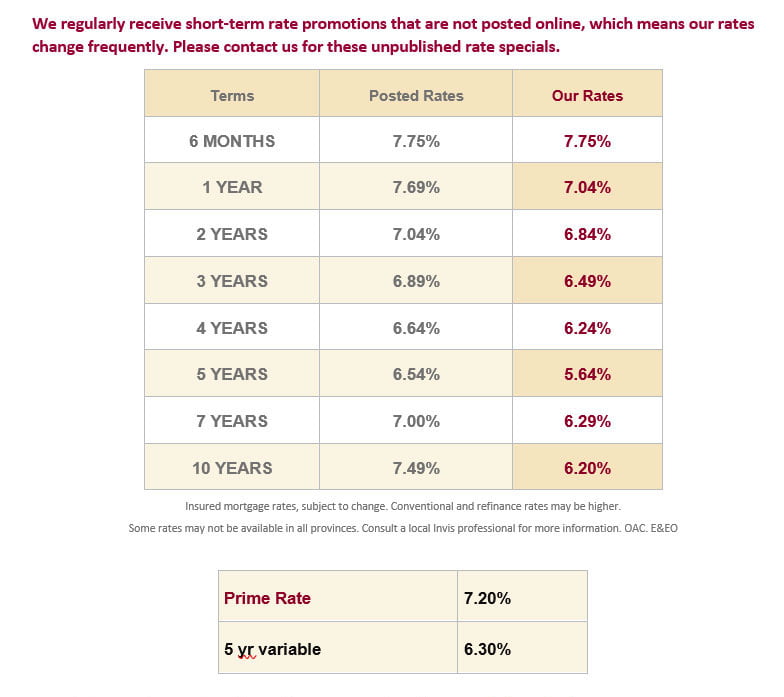 Crunch the numbers and explore different scenarios with our website calculators.