An Invitation to Attend An Evening Seminar: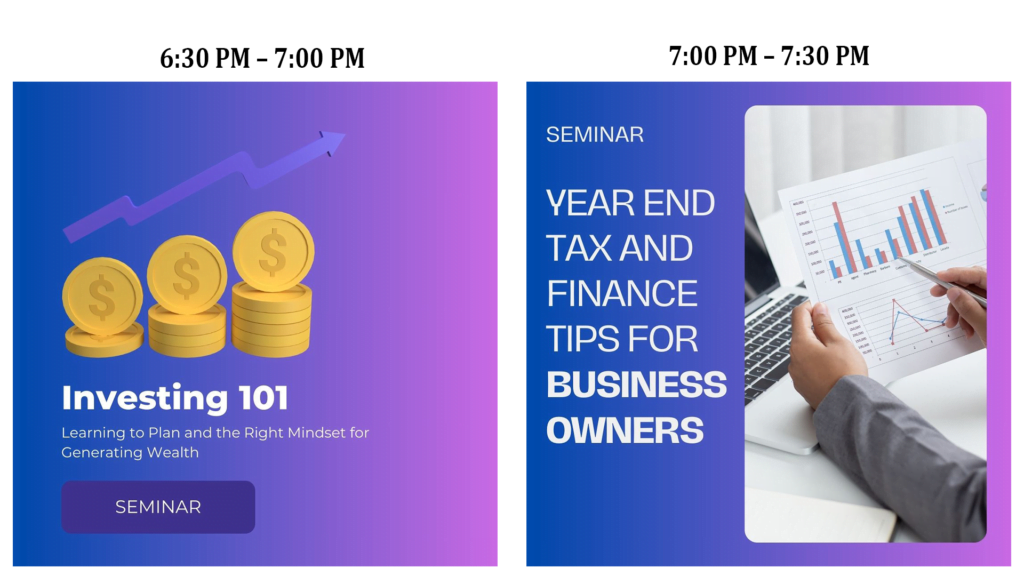 Investing 101 & Year End Tax & Finance Tips for Business Owners
Wednesday, November 22, 2023
Location: In Person at 1545 Carling Ave, Main Floor
or via Zoom Live Stream
Time: 6:30 p.m. – 7:30 p.m. (EST)
Join us as we host a multi topic seminar session discussing Investing 101-Learning to Plan and the Right Mindset for Generating Wealth. Please feel free to extend this invitation to your children and/or grandchildren as it will be a great educational session. The second seminar topic will start at 7pm, and we will discuss Year End Tax & Financial Tips for Business Owners which will elaborate on year-end tax opportunities that can make a real difference to the short and long-term financial health of your business and personal finances in 2024. These two sessions promise to be informative and we will provide you with the opportunity to ask questions after each presentation. Please send your RSVP by Monday, November 20th to Natalie Nunn-Métivier by calling 613-728-0101 ext. 226, by email to nnunn@mandevillepc.com or by signing up below.
Coffee & Dessert will be served to in person attendees.
We hope to see you there.
Your hosts,
Michael & Adam Prittie
Register for this Event!
"*" indicates required fields
We hope to see you there.
Your hosts,
Michael & Adam Prittie